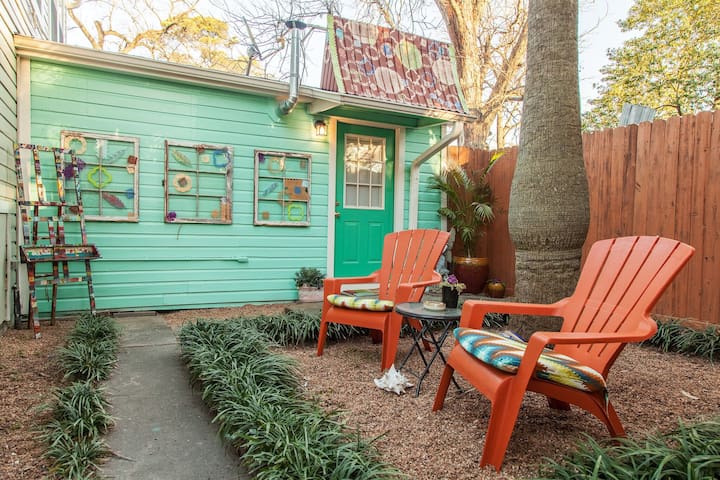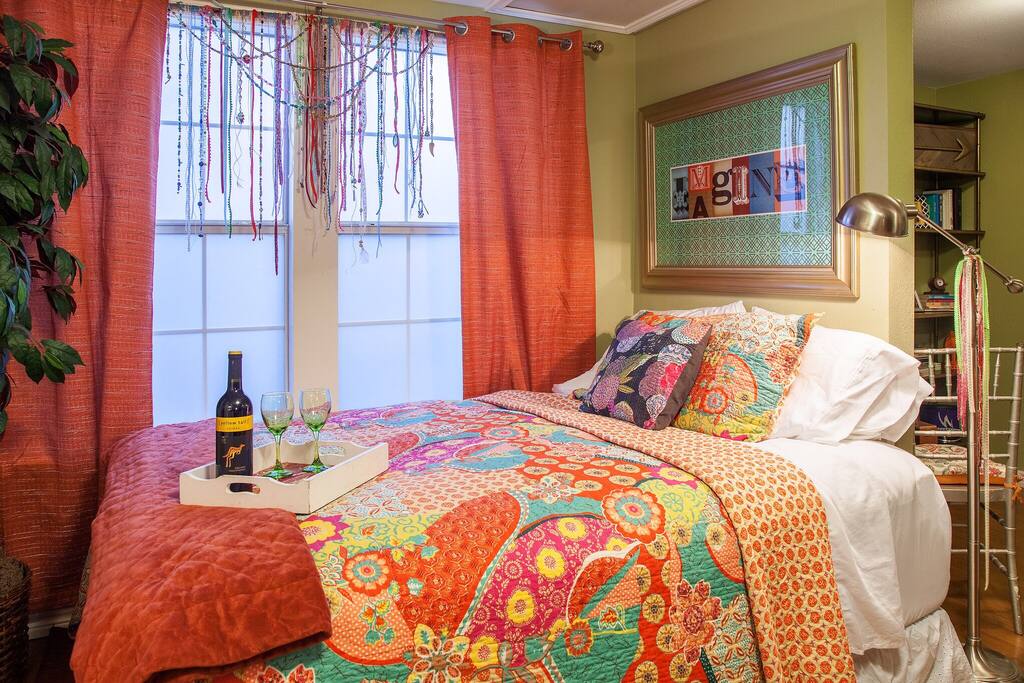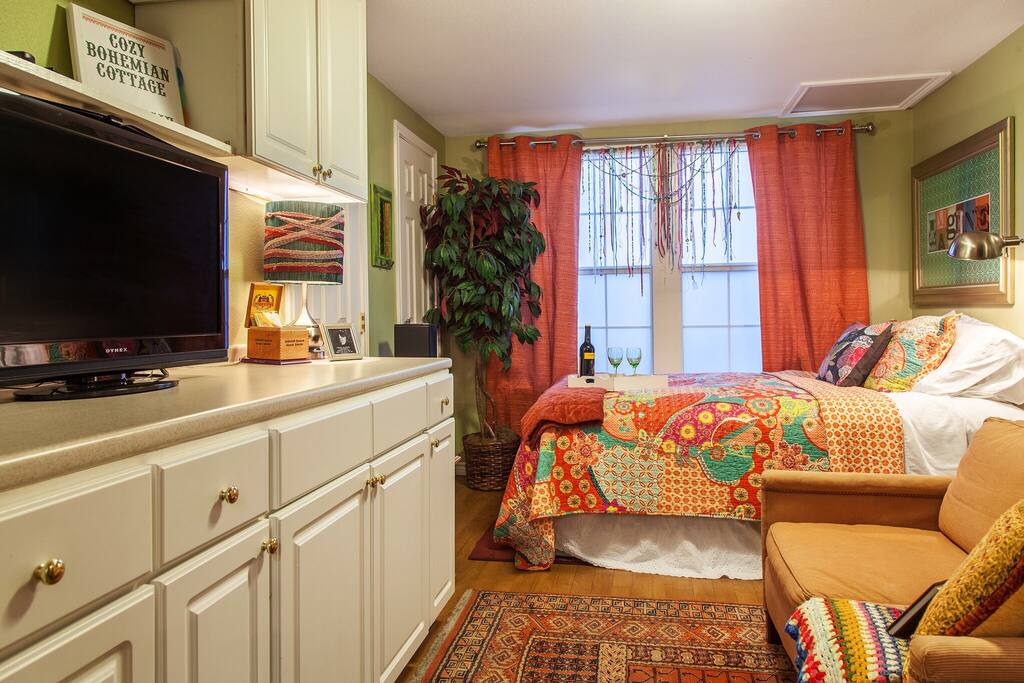 Esta cabaña se encuentra cerca de la Metro Light Rail que te entrega en la puerta principal de NRG. Céntricamente situado acogedor bohemio cabaña situada en el histórico Lindale Heights. Situado en una parada de autobús de metro ya 2 cuadras del tren ligero. Perfeccione para OTC, rodeo, centro médico, centro de la ciudad, parque zoológico o cualquier acontecimiento en el estadio de NRG.
This cottage sits close to the Metro Light Rail that delivers you at the front door of NRG. Centrally located cozy bohemian cottage located in the historical Lindale Heights. Located at a metro bus stop and 2 blocks from the light rail. Perfect for OTC, Rodeo, medical center, downtown, zoo or any event at NRG stadium.
El lugar
Usted seguramente encontrará el espacio para ser acogedor! Equipado con una súper cómoda almohada top cama y almohadas, sábanas suaves y todas las comodidades del hogar. Este acogedor apartamento Efficiency es la escapada perfecta. No hay necesidad de empacar artículos de tocador y otros elementos esenciales. ¡He intentado pensar en todo y si he olvidado algo, siéntase libre de preguntar! Si este espacio no es exactamente lo que estás buscando, Mira mi otra lista, VAGABOND VILLA! Villa Vagabond Houston, TX, Estados Unidos Ubicado en el centro de "Vagabond Villa" se encuentra en el histórico Lindale Heights. Situado en una parada de autobús de metro ya 2 cuadras del tren ligero. Perfecto para Super Bowl, OTC, Rodeo, centro médico, d ...
you will surely find the space to be cozy! Equipped with a super comfy pillow top bed and pillows, soft sheets and all the comforts of home. This Cozy Efficiency Apartment is the perfect getaway. No need to pack toiletries and other essentials. I've tried to think of it all and if I've forgotten something, feel free to ask!
If this space isn't exactly what you are looking for, Look at my other listing, VAGABOND VILLA!Vagabond VillaHouston, TX, United StatesCentrally located " Vagabond Villa" is located in the historical Lindale Heights. Located at a metro bus stop and 2 blocks from the light rail. Perfect for Super Bowl, OTC, Rodeo, medical center, d...
Disponible para huéspedes
Los huéspedes tendrán acceso a una plaza de aparcamiento cubierto y aparcamiento adicional en la calle. Hay una entrada privada que se abre a un patio privado. Usted tendrá acceso a una sala de lavandería que se comparte con otro espacio. Usted tiene acceso a todo el apartamento.
Guests will have access to one parking space that's covered and additional street parking. There's a private guest entrance that opens up to a private courtyard. You will have access to a laundry room that is shared with one other space. You have access to the entire apartment.
Atención a los huéspedes
Como madre soltera de un hijo de cuatro años, necesitaba crear una manera de generar ingresos para pagar su matrícula escolar. Esa era la única manera de mantenerlo en la escuela privada. Así que lo veo como un honor poder interactuar con aquellos que lo hacen posible. Estoy generalmente minutos de la propiedad la mayoría del tiempo. Soy un nativo Houstonian y extremadamente bien informado de la mayoría de las zonas, restaurantes y actividades en Houston. Estoy siempre disponible por teléfono durante su estancia y tengo un personal disponible para ayudar a los días de semana de 8 am-5:30pm. Siempre hay ayuda cerca! Una vez más, veo a los huéspedes como una bendición, así que siéntase libre de pedir ayuda! ¡¡¡Lo digo en serio!!!
As a single mom of a four year old son, I needed to create a way to generate revenue to pay for his school tuition. That was the only way to keep him in private school. so, I see it as an honor to be able to interact with those that make it possible. I am generally minutes away from the property most of the time. I am a native Houstonian and extremely knowledgeable of most areas,eateries,and activities going on in Houston. I'm always available via phone during your stay and I have a staff available to help weekdays from 8am-5:30pm. There's always help near!!! Again, I see guests as a blessing, so feel free to ask for help!!! I mean it!!!
Otros aspectos destacables
Hay un inquilino permanente que comparte la lavandería y el patio con usted. Él está en un apartamento corporativo completamente amueblado y un gran tipo. Su nombre es Scott y viaja mucho, así que tal vez nunca lo veas, si lo haces, por favor salúralo, ya que ya le he notificado de tu estancia. Hay dos camas, una increíblemente cómoda cama de matrimonio y un sofá-cama Matress.
There is a permanent tenant that shares the laundry facility and courtyard with you. He is in a fully furnished corporate apartment and a great guy. His name is Scott and travels a great deal, so you may never see him, if you do, please greet him, as I will have already notified him of your stay.
There are two beds, an amazingly comfortable queen bed and a pull out twin Matress.
---
Este espacio dispone de los servicios básicos para viajes de negocios.
---
---
Dormitorio 1
1 cama tamaño queen
Zonas comunes
1 colchón en el suelo, 1 cuna
---
La hora de llegada es a partir de las 15:00
Salida antes de las 11:00
Llegada con acceso libre con lockbox
Do Unto others as you expect done to you!!!! Please be courteous to my neighbors. I love thy neighbor. They are all wonderful and I do not want to disrespect them with disorderly conduct. I do not mind you hanging on the porch, listening to music or having a beer, but the noise will need to end at a decent hour. During the day, the ladies that work in my office will be around and able to help. You will likely not see or bother them at all, but they are certainly around to help!
---
2nd Stay.. enjoyed it just as much as the first time. I really enjoyed the cottage as it is tucked away in the back corner and comes with a full-size Kitchen, Fridge and basic necessities. Checking In and Out was super easy and convenient and Leslie was super friendly and great host. I look forward to my next stay.
---
First the bad then the good. The bnb has terrible wifi, always turning off and back on sporadically. A light in the main room wasn't working, there's no local channels with football on the tv, when I asked Leslie how to get them on the TV I got no response. I was emphatically told to only park in one spot and it was taken a few times by her assistant, I even had to park on the street. Two miles down the road there's people selling drugs at a gas station at night. I showed up to dirty and Sharpie marked sheets and furniture, I was told someone would come by and change the sheets when they had clean ones and Leslie's assistant did not change them she just handed them to me making me change them myself. Due to all those factors no one should ever have to pay more than 400 weekly. Now the good, Leslie is kind and accommodating to the best of her ability, the room was quite, and the bed is comfortable.
---
My wife and I were flying in for a wedding I was the photographer for. We saw the cottage and read lots of great reviews. After a long day of traveling, we expected to arrive at the cottage and be able to go right to sleep. Unfortunately, we walked in to a large amount of mosquitoes. They were all in the bathroom and in the room. 1 or 5 would have been fine but we were walking around killing mosquitoes for the first 45 minutes. We opened the fridge to see if there happened to be any waters and there was a can of opened sardines inside. This put a foul odor in the room. Leslie came with bug spray to kill the mosquitoes. When she got there we told her this was not what we were expecting with the Airbnb. We mentioned cancelling the reservation and going to get a hotel. After this, she became extremely rude and unprofessional. We continued to tell her we knew this was not her fault but that we were dissatisfied with the experience so far. She began asking us how was she to know we didn't let the mosquitoes in and put the sardines there. She was very accusatory. She came out of the bathroom after killing mosquitoes and said, "Ohh I killed one mosquito. One mosquito isn't going to kill you" under her breath. After the way she handled this situation we felt we had no other option but to leave. She was nice and accommodating at the beginning, but once we said we were unhappy she became angry and rude.
Never one time did I mumble that one mosquito wouldn't kill you, nor did I ever suggest that you put the can of fish in the fridge (funny you should say that as I spoke to the guest that checked out and they said they didn't leave that and cleaning swore it wasn't there, but I wasn't going to even bring that up, interesting that you would lie and say that I accused you of staging that. At the moment I apologized profusely and assumed full responsibility for it) even in my review below I assume responsibility for it, so it's amazing you would say anything differently. I'm attaching my review below so people can read and decide for themselves. Additionally, I have over 100 positive reviews and have been superhost for almost two years. I try so hard to be a fantastic host and I treat my guests with respect and go above and beyond to make them happy. It's an honor to host guests. Your experience will not break my spirit, nor make it hard for me to continue to be the best host I can and give my guests the best experience possible. If anyone wants to take the time to read the truth, it's just below. Again, I will keep the two of you on my thoughts and I wish neither of you any bad vibes. I'm sorry it didn't work out, but all I ask is that you are honest with me, my future guests and yourself. My review: This might be the most challenging and worst set of guests I've ever had in two years. They were a late arrival, which is no issue since we are keyless. When they arrived at the cottage at 10:00. I walked them through check in and made sure they were set up to get in the room. I'd gone down several hours earlier and made sure the light and ac unit was on to ensure comfort upon arrival. I'd not noticed anything wrong with the room and quickly left. I always ask my guests to message once cozy in the room to ensure everything is working and up to standards. Just as soon as I get in a bubble bath and hair all good and lathered up with shampoo, I get a call from the husband stating that there are 20 mosquitoes in the cottage. I cannot wrap my head around that, but I generally always think the guests are right. I tell him to give me a few minutes to get out of the bath and I'll be right there. Before I can even get down the street 12 minutes later, they are calling. I explained that I was pulling in with mosquito spray. I get out of the car with wet hair and I'm greeted with a somewhat friendly meets hostile environment combination. Immediately, the conversation shifts from mosquitos to an open can of cat food left in the refrigerator. I tell her that no animals are allowed in the cottage and it was highly unlikely that it was cat food. So, I enter the cottage and walk over to the refrigerator. As I look inside the empty fridge, I asked where the cat food was when she points out a can of fish half opened in a bottom section of he refrigerator door. After about 10 seconds, I can smell a small fish odor and I gather it up and dispose of it in a bag. The odor disappeared. I apologized that cleaning missed a food item hidden in the door. I see no mosquitoes so I ask where the 20 mosquitos are. The wife explains that they are in the bathroom. She explained that she killed one but there were many more. I proceed to the restroom and notice that there was one dead one on the wall as stated and one additional one. I spray it and kill it. I apologized that cleaning left something in the fridge (not that they had anything food related to put in there for the night), but still, it needed to be thrown away. I apologized about the two mosquitos and sat the spray on the table and said to keep it if they needed it for their two night stay. I asked if everything else in the room was ok and they explained it was exactly like the pictures and perfect other than those two items. At this time I'm saying goodbye because my neighbor was kind enough to watch my child sinew he was in bed asleep. That's when the husband says well how do you feel about us leaving and calling it even? I asked why they were leaving if he said everything else was fine and I corrected the two issues. That's when he said well we thought we were going to be more tired from traveling but we drank a coffee on the way from the airport and we are wide awake. The wife says he has a wedding to shoot (photographer) and we need to be there really early. I explained that because of the flooding from #harvey, there's hardly any hotel rooms in town and if they cancel with me, they may have a hard time finding a room. Then the truth comes out. The wife slips up and said that they already have another room because her friend at the wedding booked an extra room that no one is using and it will save them an hour drive in the morning and it's paid for blah blah blah. So I said, why didn't you tell me this before you even came here. That's when the husband tried to stay the course that I was a terrible host because of a small can left in the fridge and the mosquitoes. The wife explained that she had to go to the bathroom so bad that they came by to check out the room and she flew through the door to the cottage and straight to the bathroom and then they called me. So now I'm led to believe that she let the mosquitoes in on her way in and this was just a ploy to get out of the cancellation fee. I at this point explained that I'd done all I could do to be accommodating of their needs. If they wanted to stay they were welcome to and if they wanted to cancel they were welcome to do say but either way, I need to get home to my child so to please let me know. This infuriated the husband because I wouldn't just say oh sure cancel and leave me high and dry since you have another room. He then got frustrated and hostile. He explained that I'd made it impossible for them to stay and that it was torturous what they had endured in the last 15 minutes. I kept my mouth shut when what I wanted to say was this.... you have no idea what torture is and what our entire city has had to endure with #harvey the past few weeks. Because you had two mosquitoes and a small can of fish in the fridge, give me a break. Go cry to the three families that lost everything and are in the other properties I have living for free. You have no clue what it's like to endure torture. Of course, I just said get with airbnb and if the cottage books up either night that was on your reservation, I'll refund your money, but if it doesn't, I will stick to my policy. So now I'm the bad guy because you got a better offer that came along. I even wished him good fortune and good luck with shooting the wedding as I walked them out of the courtyard. I know this is a long review but these people seem to be the type that will never be happy with anything that anyone can do to accommodate and please them. Let's face it, you had no intentions of staying here. You came just to use the restroom and try to say you weren't happy and that I falsely advertised. Just be honest with me when you landed and say, we got a better offer, is it cool if we cancel? I probably would have been far more accommodating if you'd have just stood flat footed and told me the truth. I try to treat all of my guests with respect and I try very hard to keep my listing in great shape. I work way too hard to have someone intentionally hurt my listing. I wish you all of the best.
---
Idiomas:
English, Español
Índice de respuesta:
100%
Tiempo de respuesta:
en menos de una hora
Descubre otras opciones en Houston y sus alrededores
Más alojamientos en Houston: